ChitoCare Beauty

ChitoCare Beauty is a new line of Icelandic cosmetics made from natural raw materials sourced from the purest oceans in the world.

Our Body Lotion is a great way to soften your skin after a shower or to refresh yourself after a long day. Loaded with natural, softening and hydrating ingredients it makes your skin soft, smooth and radiant! Chitosan, natural wonder of the sea, protects the skin, reduces redness and itching, makes your skin silky smooth.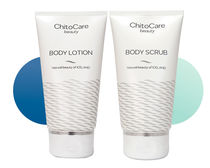 Body Scrub by ChitoCare Beauty is full of natural ingredients that soften and clean the skin. With a touch of caffeine rich in antioxidants our Body Scrub will tighten and tone your silky smooth skin and fight cellulite.
ChitoCare Beauty products are appropriate for all skin types, including eczema and sensitive skin.
The perfect choice for those who want effective natural skin care.

Read more
ChitoCare Medical
ChitoCare® medical
Primex Iceland is proud to announce its upgraded medical devices - ChitoCare® medical – with film-forming, protective and healing properties and intended for contact with skin and wounds.
ChitoCare® medical contains natural chitosan, a safe bioactive polymer harvested from the pristine waters around Iceland. Chitosan consists of amino sugars which occur naturally in the human body, and therefore has excellent biocompatibility.
Why chitosan? Chitosan is a functional polysaccharide providing support and under mild acidic conditions it becomes positively charged, rendering it bioadhesive to adhere as a protective film to intact or breached skin and to confer many other important biological properties. Chitosan is a true wonder from the sea as it protects the skin, reduces redness and irritation with its cooling effect, maintains moisture and promotes the skin's natural repair process.
CHITOCARE® medical products are intended for contact with skin and wounds – intact, breached and compromised surface. Both forms of the products, the gel and spray, protect the skin and wounds against infections, and help reduce bleeding and scarring. They soothe the symptoms associated with various skin conditions.
ChitoCare® medical can be applied to suit any skin area or wound shape and will dry into a thin, transparent and breathable film to protect the skin or wounded area, relieve inflammation, itching and pain by its cooling effect, maintain a proper micro-environment for rapid and natural healing. The chitosan film does not need to be removed as it will slowly be degraded during natural skin renewal.
ChitoCare® medical are CE marked medical devices in accordance with the European Directive 93/42/EEC on Medical Devices.
Read more
---
---
News
---